It's here! Find out what happened to Katherine's sister, Faith, aboard notorious pirate ship The Dagger.  It's 20,000 words of passion, corsets and all that good stuff and it's 99 cents today (normal price: $2.99)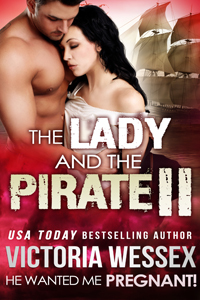 The Lady and the Pirate II – Faith's Story
The sequel – and conclusion – to my bestselling historical romance. Steamy scenes
She could have any man she wanted…
Confident and teasing, Faith has most men eating out of her hand. But she longs for a man she can't control, who will take her how he wants.
He was feared by even the pirates…
Murderer. Monster. Rogue. People have many names for Samael…but no one truly knows him or the past he hides.
When Faith is brought aboard his ship as a prisoner, Samael saves her from the rest of the crew. He tries to ignore her charms…but her presence unleashes passions neither of them can control. Faith is about to get exactly what she wanted, but it may be more than she can handle. Samael wants to possess her utterly…her mind, her soul…and her fertile body.