One of my favorite HWMPs is The Curvy Vet. I wanted to go back to Wyoming but I didn't want to do it until I had a good idea that would fit in a country setting. So I did Curvy Voice Coach and Jewel Thief in the meantime. And then finally, I was out in the country (in Britain – not Wyoming, sadly) looking up at the stars, and I thought, "You know what this night needs? A cowboy. A cowboy to put his arms around me under the stars."
And so The Curvy Astronomer was born. It's set in (or at least it starts in) the same town – which now has a name, Mustang Falls. But Emily is quite a different character to Amanda. While Amanda liked to stay in the safety of her lab, Emily's been out cruising the highways of America for a couple of years. She's fiercely independent and she's convinced she doesn't need any help from anyone–she certainly doesn't think she needs saving. But she does. When she butts up against Troy, a cowboy who's all about tradition and making a nice, warm nest of a home, expect fireworks.
It's out today and, as always, it'll be 99 cents for the first 24 hours or so. I hope you enjoy 🙂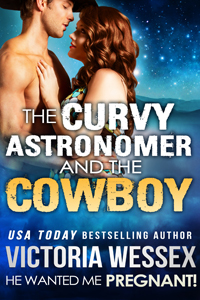 The Curvy Astronomer and the Cowboy
(25,000 words, female POV) Curvy astronomer Emily is used to life on her own. She lives on the road, making just enough from her photos to survive. But for her latest assignment, she'll have to find somewhere that's really, REALLY dark—some place far away from all civilization.
Cowboy Troy knows horses, not the Horsehead nebula. He agrees to take the stubborn scientist out to a tiny cabin in the mountains, rather than see her get lost…but a blizzard traps them there, miles from the nearest living soul.
A Wyoming winter can be dangerous: howling winds, blizzards, even bears. Can Troy protect the curvy stargazer…and tell her he's fallen for her? And will loner Emily really want to stop running, settle down…and start a family?