The first He Wanted Me Pregnant book with a shifter hero takes us to a remote Scottish castle, where reclusive (and gorgeous) billionaire Lord Alex McKillington has been hiding his true nature for years. When a headstrong TV news reporter stumbles on his secret, Alex struggles to control his primal urges. He wants Rachel for his mate…
I'm really excited about this one. It started off as a short for the "Claimed" paranormal bundle some months back (check you didn't buy that bundle before buying this, although this version is much longer and heavily reworked). I loved the characters so much I wanted to go back and do a version that was longer than the bundle had room for, and here it is 🙂 It's 99 cents for the first 24 hours!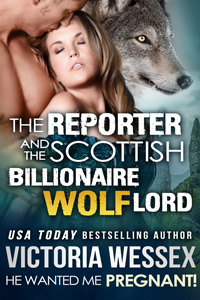 The Reporter and the Billionaire Scottish Wolf Lord
(16,000 words, female point of view. Adults only)
Note: a shorter version appeared in the Claimed paranormal romance anthology. Please make sure you don't already own it before buying.
TV reporter Rachel isn't happy about being sent from sunny LA to gray, freezing Scotland to interview a minor royal. But when he turns out to be reclusive billionaire Lord Alex McKillington, things start to get interesting. Why is the whole village scared to go near his private island? Why does he seem so worked up when he's near her, his low voice almost a…growl?
Alex has hidden his secret for years, isolating himself for the safety of others. But his need to mate hasn't gone away and when Rachel walks into his life, controlling himself is impossible.
When she discovers his secret, Rachel must convince the brooding, loner alpha male to put aside his demons and love again. But is she really ready to become his mate…and offer him her fertile body?