I am sooo excited about this one! 🙂  This is a BUMPER LENGTH release, perfect for stocking up for your vacation reading. At over 34,000 words, it's the longest He Wanted Me Pregnant!  I've written. It's the story of Charlotte, a curvy heroine who hides away behind a microphone in London…until she winds up accidentally flashing Hollywood bad boy Tanner Cole on webcam.
Hired as his voice coach to help him perfect a British accent, she finds herself thrown into the crazy life of the mega-rich in Beverly Hills. She only has a week to turn Tanner from blue-collar heartthrob into posh English lord…but that's not easy when they have to keep rehearsing romantic scenes together.
Can he convince Charlotte to reveal herself to him, body and soul, or will her own insecurities win out? And can a shy girl deal with life in the spotlight?
It's out on Amazon,Google Play and All Romance Ebooks now. As always, 99 cents for the first 24 hours, then it'll be $2.99. Note: Barnes &  Noble are being slow. Stay tuned and I'll let you know when it goes live there.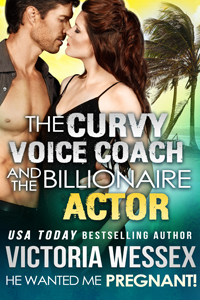 The Curvy Voice Coach and the Billionaire Actor
(34,000 words, female point of view, adults only)
Curvy voice coach Charlotte is used to helping actors get their accents right…but this time she's way out of her depth. Hired to teach Hollywood hunk Tanner Cole a British accent in just one week, she makes a lasting first impression when she accidentally flashes him on webcam.
Dragged from her sheltered life in London, the posh Brit soon finds herself in the craziness of Beverly Hills…and living in Tanner's mansion. The billionaire actor turns out to be as blue collar–and as hot–as they come, and she needs every trick in her book to help him fake it as an English lord. Unhappy with her curves, Charlotte can't believe that he could possibly be interested in her. But when their rehearsals for romantic scenes keep getting out of control, she begins to see that the bad boy has hidden depths. Does he want more than a one-night stand? And can he overcome her own fears and insecurities to win her over?
If he can, their troubles may be just beginning. Charlotte's been hiding her entire life. Is she ready for the glare of the spotlight?