My new He Wanted Me Pregnant! is out today, and it's about a shy, curvy scientist who falls for the alpha cowboy who hires her. Amanda's been hiding away in her lab, unwilling to face the world…but when billionaire and new stud farm owner Russ Tyler needs her skills to cure a sick horse, he won't take no for an answer. He drags her out of the safety of her lab, puts her on a horse and takes her on a week-long trek into the wilderness that will change both of them forever. It's 20,000 words, it's 99 cents today and you can pick it up at all the normal places (links below)!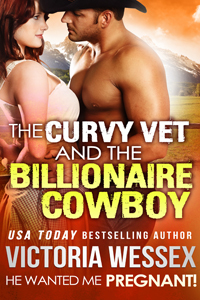 The Curvy Vet and the Billionaire Cowboy
(20,000 words, female point of view. Adults only)
Curvy veterinarian scientist Amanda has never been comfortable with her body. She hides away in her lab in Atlanta, burying herself in her work…until a call from a stranger drags her out of the city and into the wilderness.
Former oil man and all-round alpha male Russ Tyler has made his billions and bought himself a stud farm in Wyoming. He needs Amanda to treat a feral horse high in the mountains…but that means persuading the timid beauty to trek there with him on horseback.
Amanda's used to soy lattes, not camping out under the stars with a gorgeous, muscled cowboy. Can Russ convince her that he loves her curves…and wants her to have his children?