First it was delayed because I wanted to make sure it was perfect. Then Amazon started having problems with their publishing process, with some books getting snarled up in the system for up to 10 days. Now, finally, it's live. I can't believe it's been nearly three months since the last He Wanted Me Pregnant! ("Voice Coach").
This one's the story of Gemma, a shy and nervous cat burglar who's only really at home when she's dangling upside down from a rope. She doesn't do people…certainly not men. Luckily, her all-girl team has Lauren, the curvy grifter, to charm men into parting with their valuables.
But when a job goes wrong, Gemma has to step from the shadows and not just meet a man but talk to him, sing for him…maybe even seduce him. And what a man: Marshall is gorgeous and he's big. Once these two get together, all bets are off. He might just be exactly what the antsy, twitchy Gemma needs…but if she's to get the job done, she's going to need to betray him. A cat burglar who's spent her life avoiding being caught is about to get very, very tangled.
I always love writing the HWMP books but this one was just a blast from start to finish. As always, let me know if you like it 🙂
It's exclusive to Amazon but, with their apps for iPad, phone, PC and even Nook, everyone should be catered for. It's also in Kindle Unlimited, Amazon's new service that works a bit like Netflix for books. Amazon are offering a 30 day trial of the service. Or, if you prefer, you can just buy Jewel Thief as normal – it's 99c today 🙂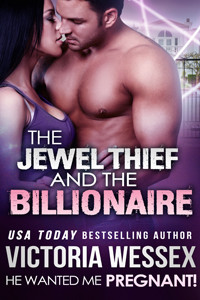 The Jewel Thief and the Billionaire
36,000 words, female point of view, romance with steamy scenes
Professional cat burglar Gemma has never fitted in. Nervous and shy, she's happy only when she's hanging upside down, dodging a laser beam. But when a job goes wrong, Gemma has to go from skulking in the shadows to getting up close and personal with gorgeous billionaire Marshall Deen.
She's meant to be stealing a priceless diamond from him; she wasn't planning on falling in love. As their attraction boils over into passion, Gemma finds her loyalties tested to the limit. And Marshall has plans of his own. Entranced by Gemma, he's determined to make her his…and he wants a family. But when their two worlds collide and lives are threatened, it's going to take all of Gemma's skills to find a way out.